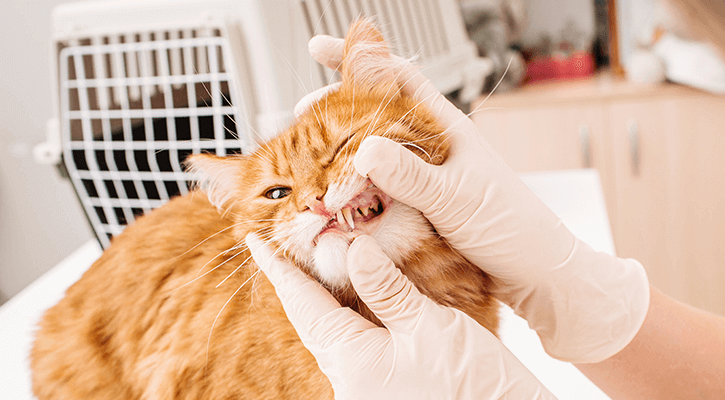 All animals need regular dental care, both at home and professionally. According the American Veterinary Dental Society, over 80% of dogs and 70% of cats have evidence of dental disease by the age of 3. Untreated, dental disease can cause pain, tooth loss, periodontal disease and damage to internal organs. Regular dental care is an important step in preventing these complications. Home care will help prevent or delay oral disease, but, once the disease is established, either as calculus (brown buildup on teeth) or gum disease (redness, gum swelling and infection), professional cleaning and correction are needed. And then, when your pet's mouth is returned to good condition, regular home care can help keep his or her teeth and gums healthy.
Routine physical checkups by your veterinarian include a thorough examination of the mouth and gums to detect any changes and to allow planning for their correction. Call us and make an appointment with one of our veterinarians for your pet's exam and home or professional dental care planning.
Give your pet the gift of better dental health.
Home Pet Dental Care
Home dental care is extremely important in preserving oral health for dogs and cats. Home care may be started early in life to prevent early dental disease in puppies and kittens and to accustom them to having their mouth examined and teeth brushed.
Regardless of the age at which it is started, regular home dental care helps improve dental health and delay the need for professional dental procedures. The choice of home dental care options depends on many factors. Some questions to answer include:
 How easy it is to handle my pet's mouth?
 How much time and effort am I willing to commit to my pet's dental care?
 Is ease of use of primary importance, even if the product or method may not be as effective? Remember, highly effective methods, such as teeth brushing, are not very effective if they are infrequently done.
The table below provides a good overview of these options and factors.
| | | | |
| --- | --- | --- | --- |
| Type | Frequency | Time Required | Effectiveness |
| Tooth brushing | Daily | 5 minutes/day | ++++ |
| Healthy Mouth | Daily | 1-3 minutes/day | +++ |
| t/d Diet | Daily | No additional time needed | ++ |
| Maxigard Gel | Daily | 2 minutes/day | + |
All of the home care options listed above can be used together for even better oral health.
Professional Dental Care
Professional Dental Prophylaxis (cleaning)
Once a pet has developed dental plaque, tartar, calculus and/or periodontal disease, home care is inadequate to restore a healthy mouth. These patients are in need of professional dental prophylaxis (prophy). Our technicians are skilled at dental prophy, and they clean and polish your pet's teeth, very similar to a human dental hygienist. Once the cleaning is complete, we offer digital dental radiography, which allows us to detect and treat dental disease more effectively. Our doctors evaluate your pet's mouth and radiographs to determine if any additional treatment is needed. We are able to perform a variety of dental procedures and have the option of referring your pet to a board-certified dental specialist if needed for complex problems.

General anesthesia is required for dental prophy in pets, which makes many pet owners nervous. We understand the risks of general anesthesia and take every precaution to make sure your pet is safe. Pre-anesthetic workups are recommended for pets undergoing dental work. A veterinarian will conduct a physical examination, blood work and EKG (electrocardiogram) to screen your pet for underlying diseases that can lead to anesthetic complications. Based on this assessment, your veterinarian will advise you on whether or not your pet is a candidate for a dental cleaning. The doctor will then make a unique plan catered to your pet's health. Anesthetic complications in healthy pets (as determined by the pre-anesthetic workup) are exceedingly rare, unlike the complications of untreated dental disease, which are very common.

Please contact our veterinarians at Animal Medical Hospital in St. Petersburg, Florida (FL) at 727-896-7127 for more information.