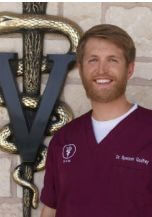 Dr. Spencer Godfrey joined the team at the Animal Medical Hospital in 2018. Prior to that, he received his undergraduate degree fr­om Florida State University in 2011 and his veterinary degree from the University of Florida in 2015. After receiving his veterinary degree, he performed a one-year mixed animal internship in Texas at Alvarado Veterinary Clinic, staying on as an associate veterinarian at the hospital.
His professional interests include soft tissue and orthopedic surgery, small animal medicine, and small ruminants.
During his spare time, he can be found spending time with his wife, daughter, and dog, Finn. His personal interests include outdoor activities like fishing, boating, kayaking, and grilling. Dr. Godfrey is an active member of the American Veterinary Medical Association as well as the Florida Veterinary Medical Association.